Will Kemp: The Snaky-hipped James Dean of Ballet
Actor Interview with Will Kemp for acting book
WILL KEMP has very impressive credits in film, television and theatre and is not only an accomplished actor but also a classically trained dancer. At age 9, he attended dance classes at the suggestion of his mother and dancing turned out to be his talent. His hard work and natural talent earned him a place in the Royal Ballet Senior Associates & then Royal Ballet Upper School. He accepted an offer to join Matthew Bourne's groundbreaking dance company Adventures in Motion Pictures (now New Adventures) and danced the lead role in the original multi-award winning production of Swan Lake. Matthew Bourne has described Will as 'very snaky-hipped' and Paramount Studio head Sherry Lansing was so impressed by his performance that she called him 'The James Dean of Dance'. He was nominated for a Los Angeles Critics Drama Award for Outstanding Featured Performer for his work in Matthew Bourne's Cinderella and was involved in creating many more award winning productions with the company.
After a huge internationally recognised commercial campaign for the clothing line GAP, directed by the late Peter Lindbergh his acting debut came in the form of the film Mindhunters opposite Christian Slater and Val Kilmer playing a trainee Psychological Profiler in the FBI. This was followed by the Universal Pictures tentpole film Van Helsing,opposite Hugh Jackman and Kate Beckinsale as The Wolf Man.
Will's Theatre credits include Nugget & The Young Horsemen in the West End revival of EQUUS, alongside Daniel Radcliffe and the late Richard Griffiths and Mercutio in Romeo & Juliet opposite Santiago Cabrera and Juliet Rylance.
His many TV credits include Lord Darnley in the last season of Reign on CW (People's Choice Award for Favourite new TV Drama) and three seasons as Scott on Bravos' first scripted TV series Girlfriends' Guide to Divorce. Will can next be seen in the Netflix original series Spinning Out opposite January Jones & Kaya Scodelario and in the Independent film Barbarians opposite Tom Cullen and Iwan Rheon.
Your acting debut was in the 2004 film Van Helsing, opposite Hugh Jackman and Kate Beckinsale. How did it feel getting such role at the time and working with such well-known actors?

I had an amazing time on Van Helsing and working with Hugh Jackman, Kate Beckinsale & Richard Roxburgh remains a highlight of my career. However, my first film job was actually Mindhunters for Renny Harlin which I filmed in Amsterdam with Christian Slater, LL Cool J, Val Kilmer, Jonny Lee Miller & Cliffton Collins Jr. - which was a real baptism by fire into the world of Hollywood films and big personalities!
You have some very impressive credits in film, television and theatre. What is your personal favourite performance?
I tend not to watch the films I'm in too much. I'm aware enough of how they turn out and can be objective in terms of learning and taking things forward. The TV show Reign for CW was the first chance I had at really getting into a character over a period of 16 episodes (seven months). I really enjoyed the challenge and complexity of going to work everyday over a long period of time and getting to delve into such a rich character in British history. Sometimes the scripts didn't come in till just before the episode was due to film so I was constantly kept on my toes.
What was your memorable film shooting and why?
I loved my time on Girlfriends' Guide to Divorce for Bravo TV. I learned a huge amount from working with people like Lisa Edelstein, Paul Adelstein and especially Alana Ubach - coming to work with her felt like the best challenge an Actor could want. We both brought so much to it every day. It was a great chance to work on comedy & probably the most fun I've had on a TV set.
Do you have any funny or humorous memory from your acting career to share?
I have so many! Some can be repeated some probably shouldn't !!
I've split my leather pants on stage in front of 1800 people, I've worked opposite Actors using earpieces to feed them dialogue, I've flown around filming in a Helicopter with Val Kilmer eating a Cheeseburger (during a scene, for no reason mentioned in the script), walked into rehearsals for EQUUS to find Daniel Radcliffe naked (how he wanted to rehearse) and witnessed the late, great, Richard Griffiths fall asleep on stage mid scene!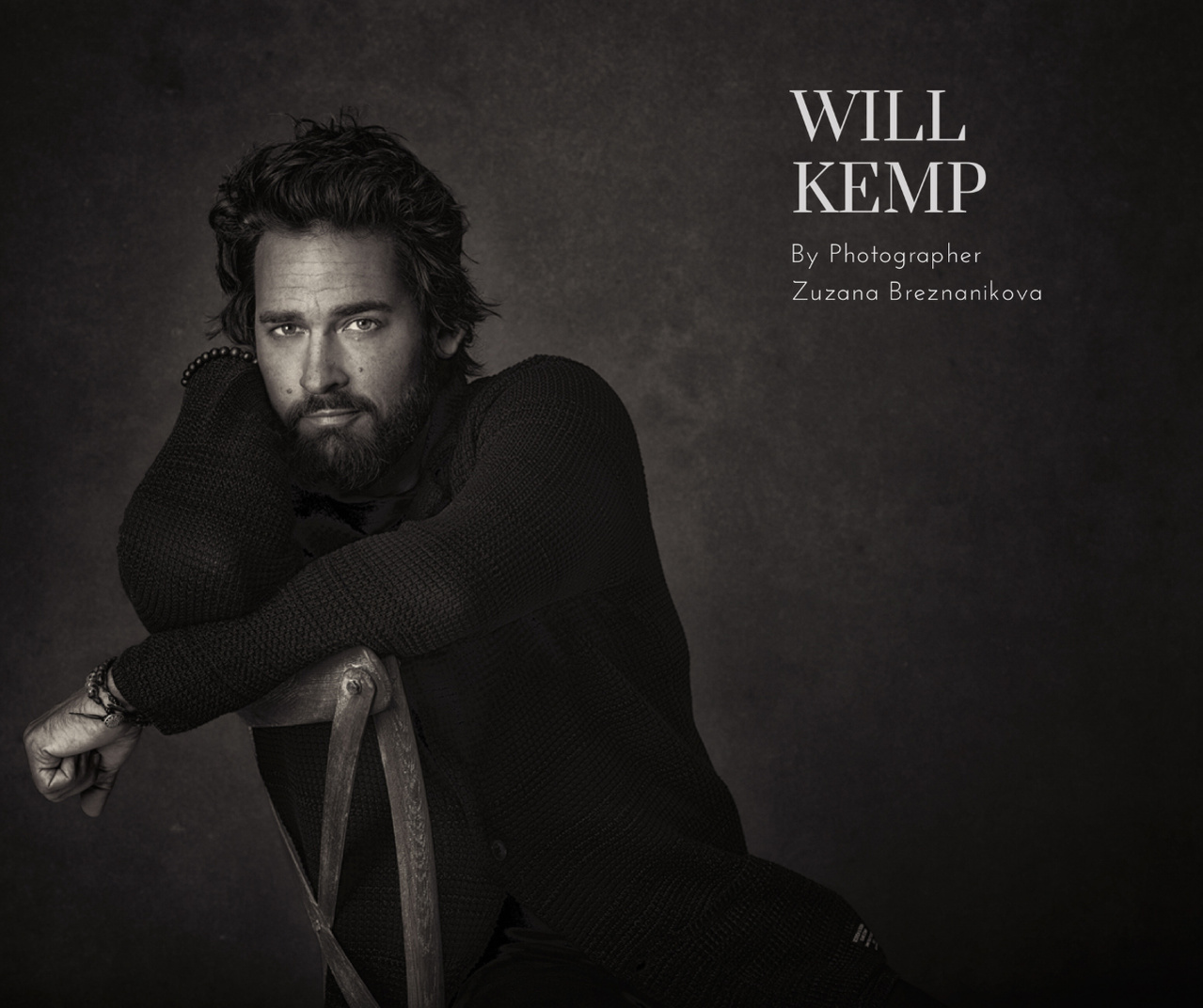 What's something we would never guess about you?
Interesting question. I'm a pretty open book! Maybe something that people are surprised to hear is that I have a teenage daughter and an eleven year old son! I'm very much a family man but I also crave my time away to concentrate on work and myself.
You are one of few actors who can actually dance. I mean one doesn't just win the lead role of Matthew Bourne's Swan Lake by chance! What does it take to win such a lead role (I mean besides training at the prestigious Royal Ballet school)?
On graduating from the Royal Ballet School I was offered several opportunities to join dance companies but Matthew Bourne's seemed like the most natural fit for me. I was aware that Principal Dancer, Adam Cooper, was going to be involved with the creation of a new version of Swan Lake. Being around the Royal Ballet Company I knew who he was and admired his work greatly. Together we were the first to join Matthew Bourne's company from a pure classical ballet background. Adam magnanimously taught me the lead role of The Swan in his lunch breaks at the Royal Opera House - in order for me to share the role with him on the UK Tour we both had to work outside the usual hours and be prepared to do what ever it took to make it happen.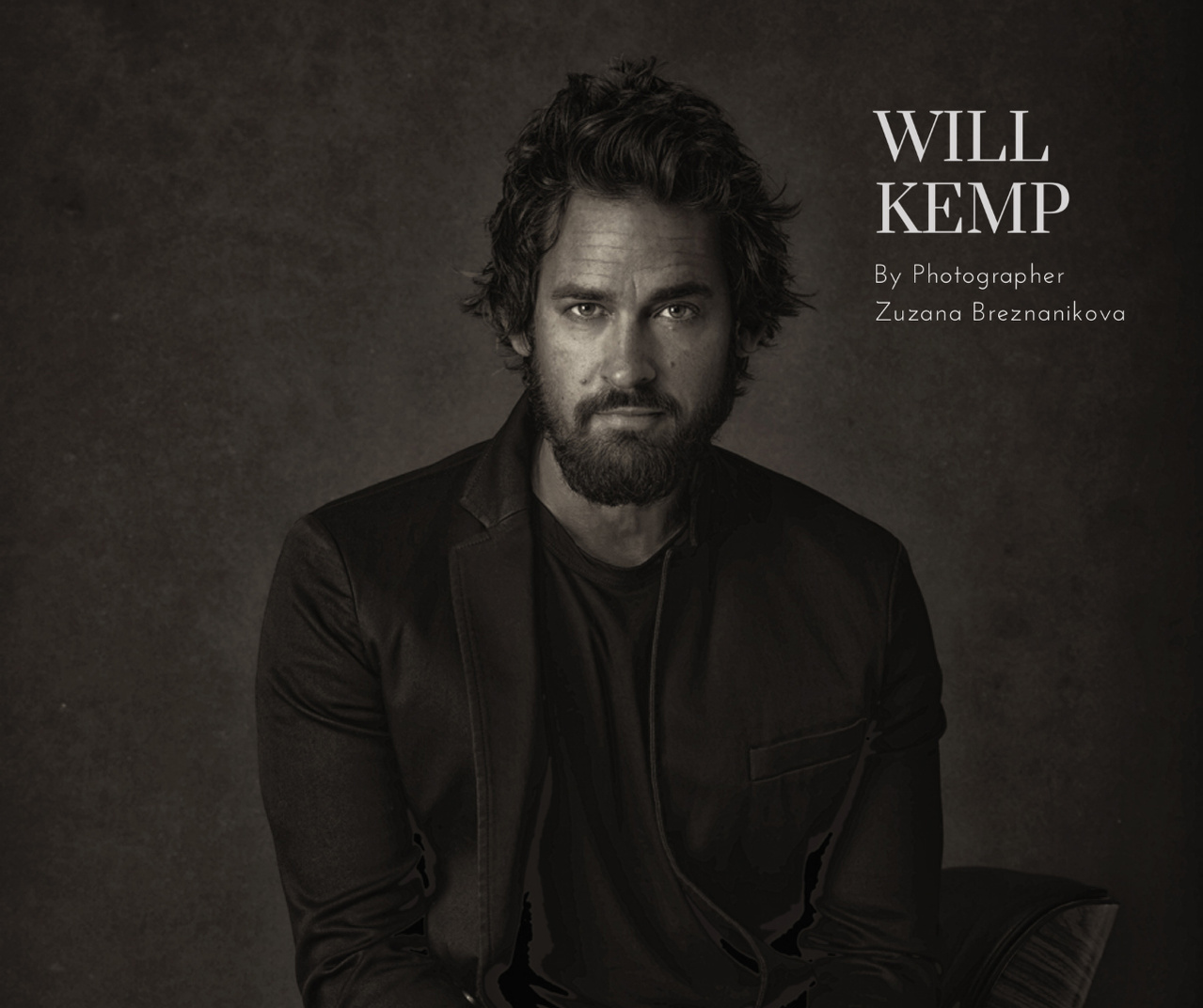 You have shot a commercial campaign for Gap directed by the late Peter Lindbergh who is such an icon for photographers including myself. How was it working with him?
I loved working with Peter and was very sad to hear of his passing this year. He gave me such freedom to choreograph, explore and even come up with the catchphrase "Keep it loose" for my commercial. I remember his gregarious grin and larger than life personality. We both just giggled away to Quincy Jones' iconic "Stuff Like That". He was controlling a camera on a crane in the studio and I can recall Peter's sheer glee at doing so - operating it like a child with a new toy!
What is something that you know now that you wish you knew when you were first starting out as an actor?
The world and the business has changed a lot since I began (almost 20 yrs ago) I was initially very private and hated any kind of exposure or publicity. In the current age of Social Media and disposable publicity I would probably tell my younger self to just get on with it and embrace any attention and publicity… on the one hand everything printed / recorded lasts forever but on the other hand everything moves so fast now and gets lost in the high volume of news, publicity and social media etc.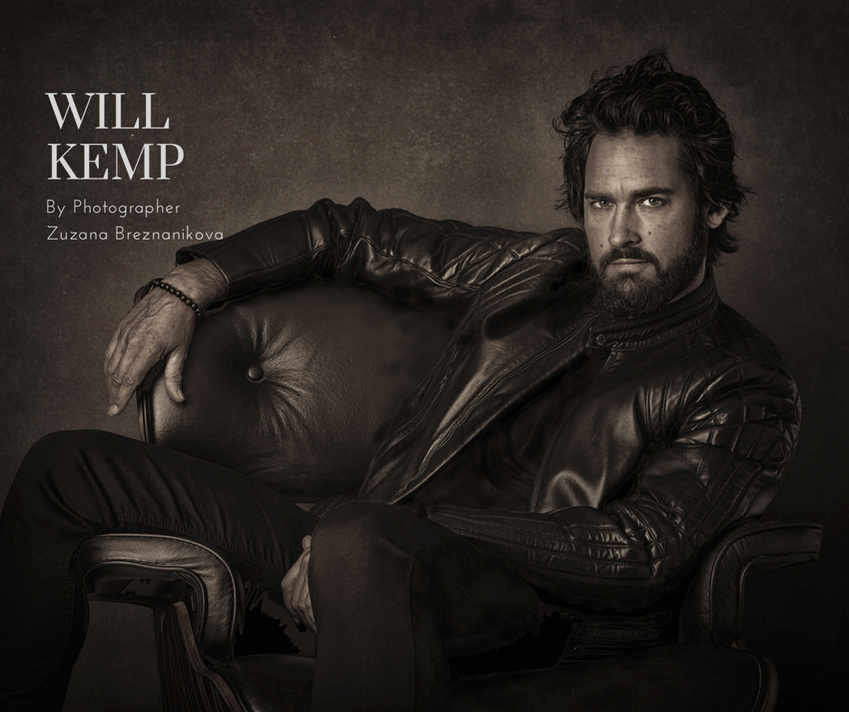 What is your message (advice) to aspiring actors / actresses?
I found that being reminded that "everything has to support the work" is a great way to navigate a working life as an Actor. It may seem obvious but; If it gets in the way or distracts from doing your best work it's not useful and if it helps you to do your best work you should fight to keep it.
I remember getting swept up in the lavishness of my first Hollywood Film job. I was cast alongside some Hollywood heavyweights where my weekly living allowance alone was more money than I had been making a month as a dancer. We had limousines drive us around, we were flying across the Atlantic first class, had wonderful apartments to live in, big trailers on set and I remember Jonny Lee Miller (the only other English actor on the film) turning to me and saying something to the effect of "all this doesn't mean anything other than it is meant to help you do your best work, to arrive to set fully prepared, rested and in the best shape possible to give your best, 100% of the time". I would endorse this advice to any young working or aspiring Actor. No matter the conditions you find yourself in, it's about the work not the lifestyle. Good or bad.
Can you tell us about what you're working on now?
Earlier this year I filmed a Netflix original 10 part series called Spinning Out in which I play Mitch Saunders, a Figure skating coach. Working opposite January Jones (Mad Men), Willow Shields (Hunger Games) and Kaya Scodelario (Pirates of the Caribbean). We filmed in Toronto in the winter with temperatures dropping to -38! It was a brutal shoot but the results are great and I am excited for audiences to see the show's first season in January 2020.
I recently completed filming on a UK Independent Film called Barbarians in which I play John Wickes the eldest of three brothers who bring an unexpected and violent twist to a friends dinner party. It's the debut film for director Charlie Dorfman and stars …Read the full interview and photoshoot in the acting book featuring Will on the cover (proceeds go to cancer charities) - get the original recommended version on Apple iBooks or get your Kindle copy today.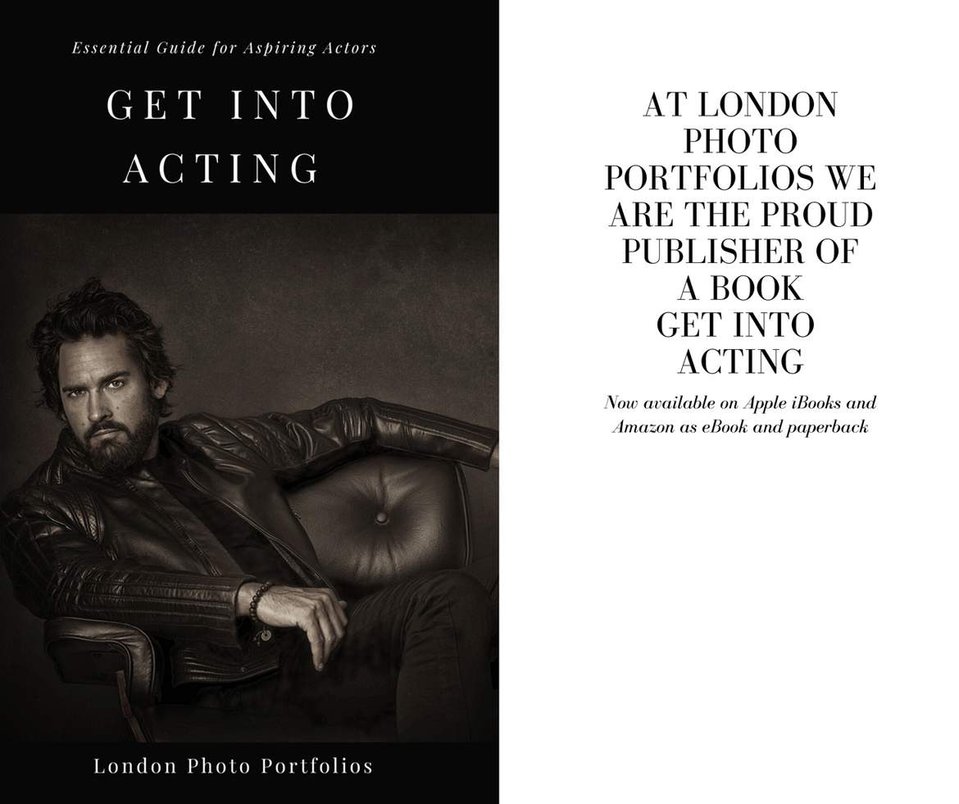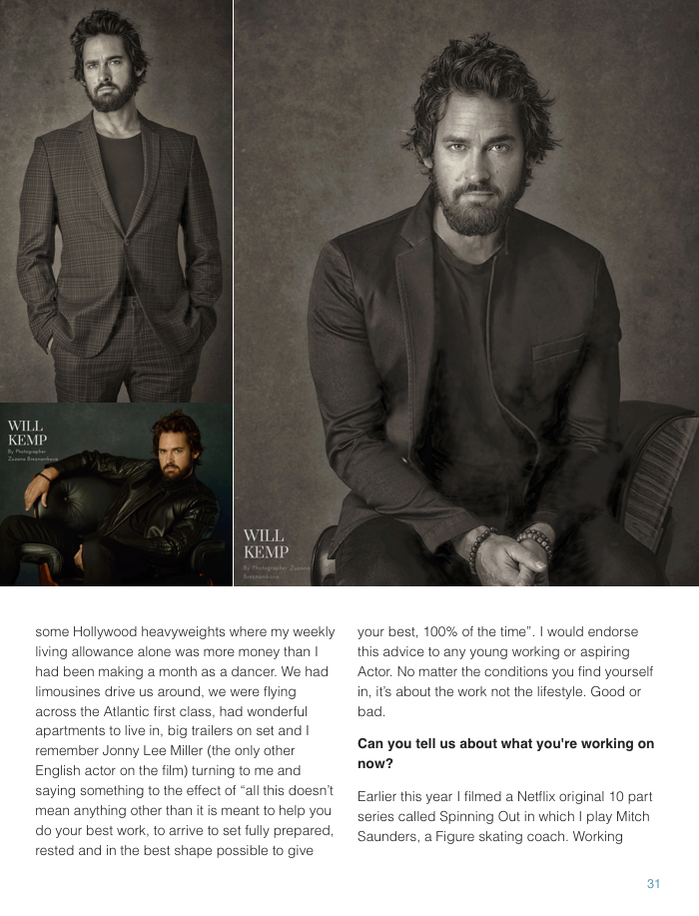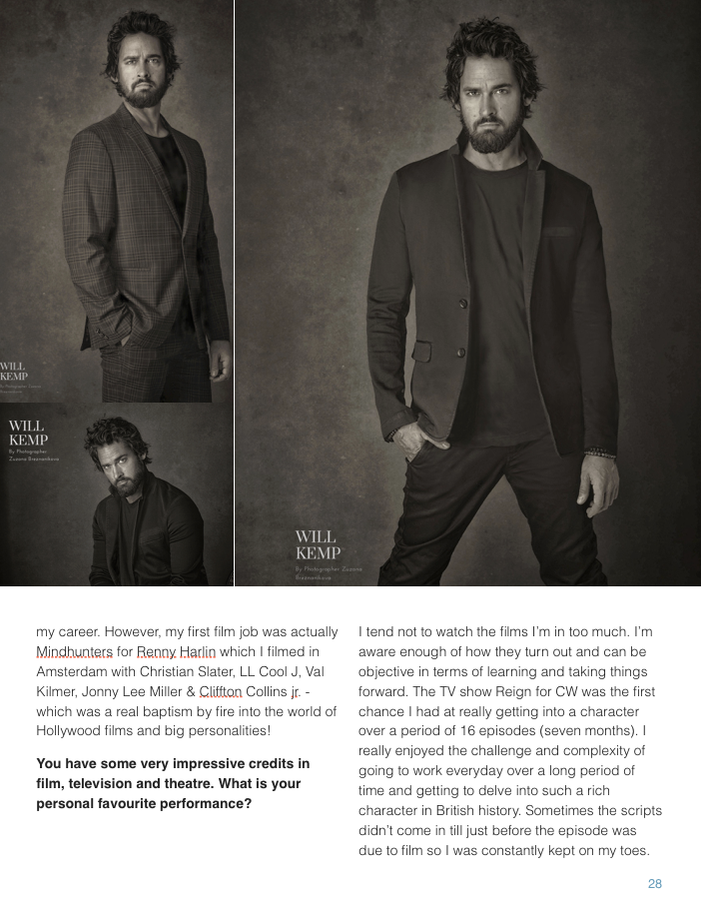 Follow Will and his career on Instagram: @iamwillkemp & Twitter @IamWillKemp
Follow Zuzana on Twitter @breznanikova