Xio from Crystal X: The Rock Chick
XIOMARA CRYSTAL is a very talented singer and song writer from alternative rock music band Crystal X. She came over to the studio with her manager Stuart to shoot her EP cover and promo shots. She has a cool fashion style. Xio can not only sing high notes but she also plays the guitar and writes her own lyrics! She is very dedicated to her music - check out her music Facebook page.
Music photography and celebrity interview by London celebrity portraiture photographer Zuzana Breznanikova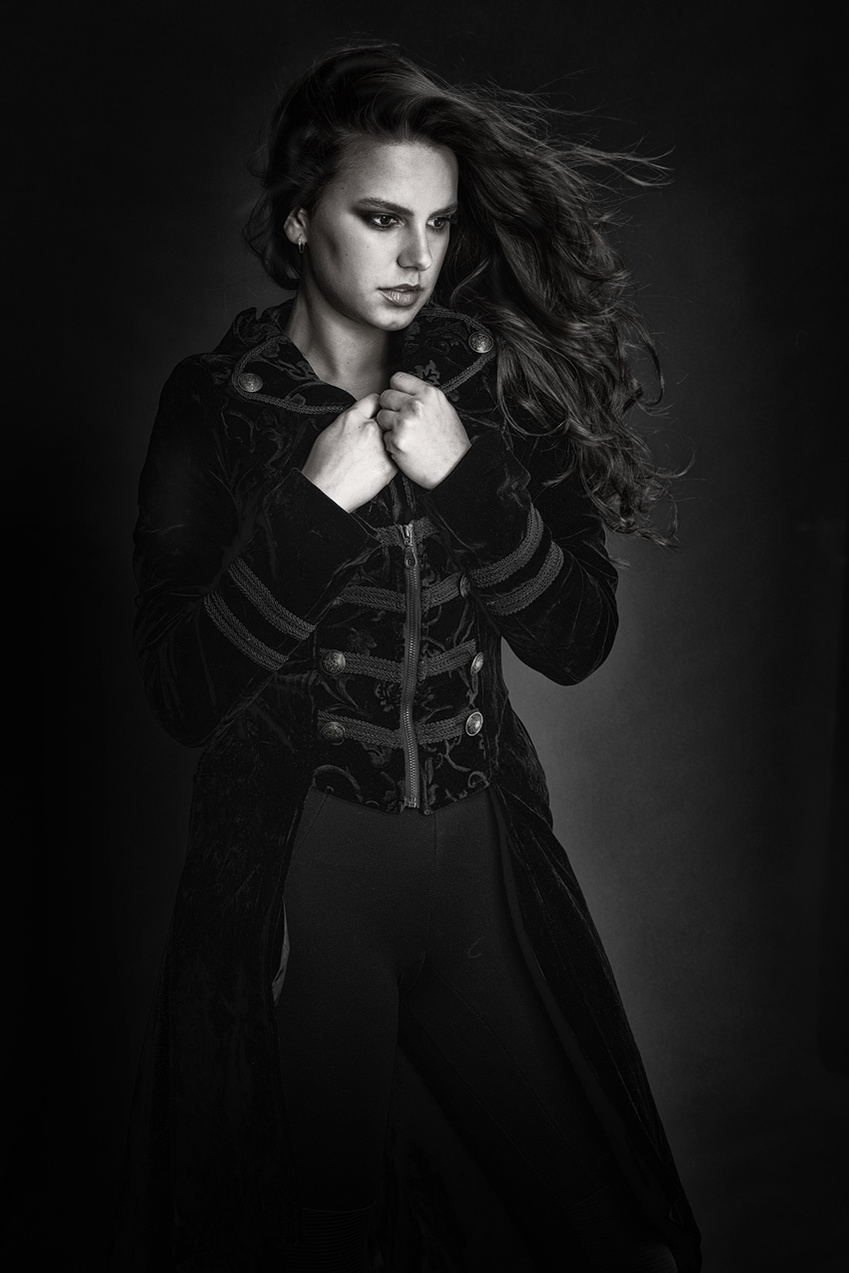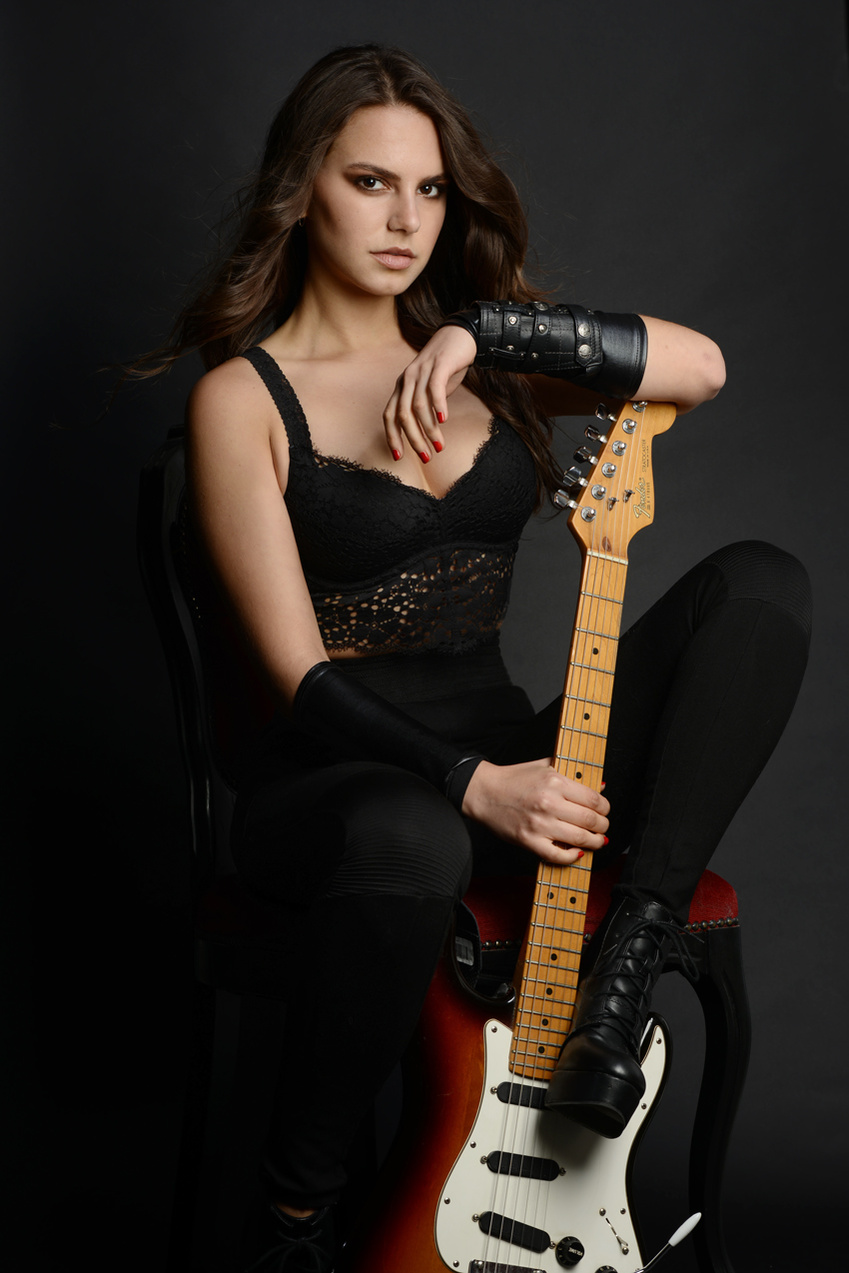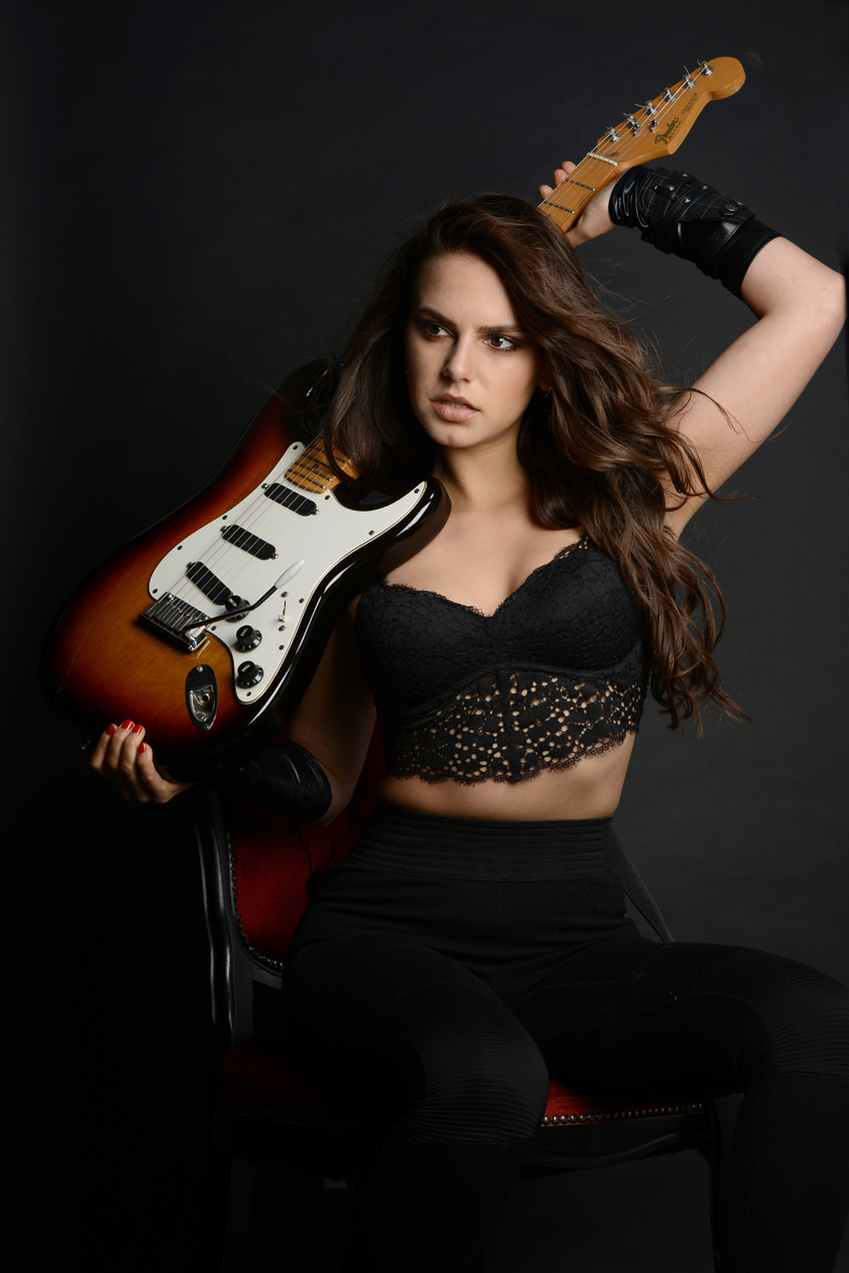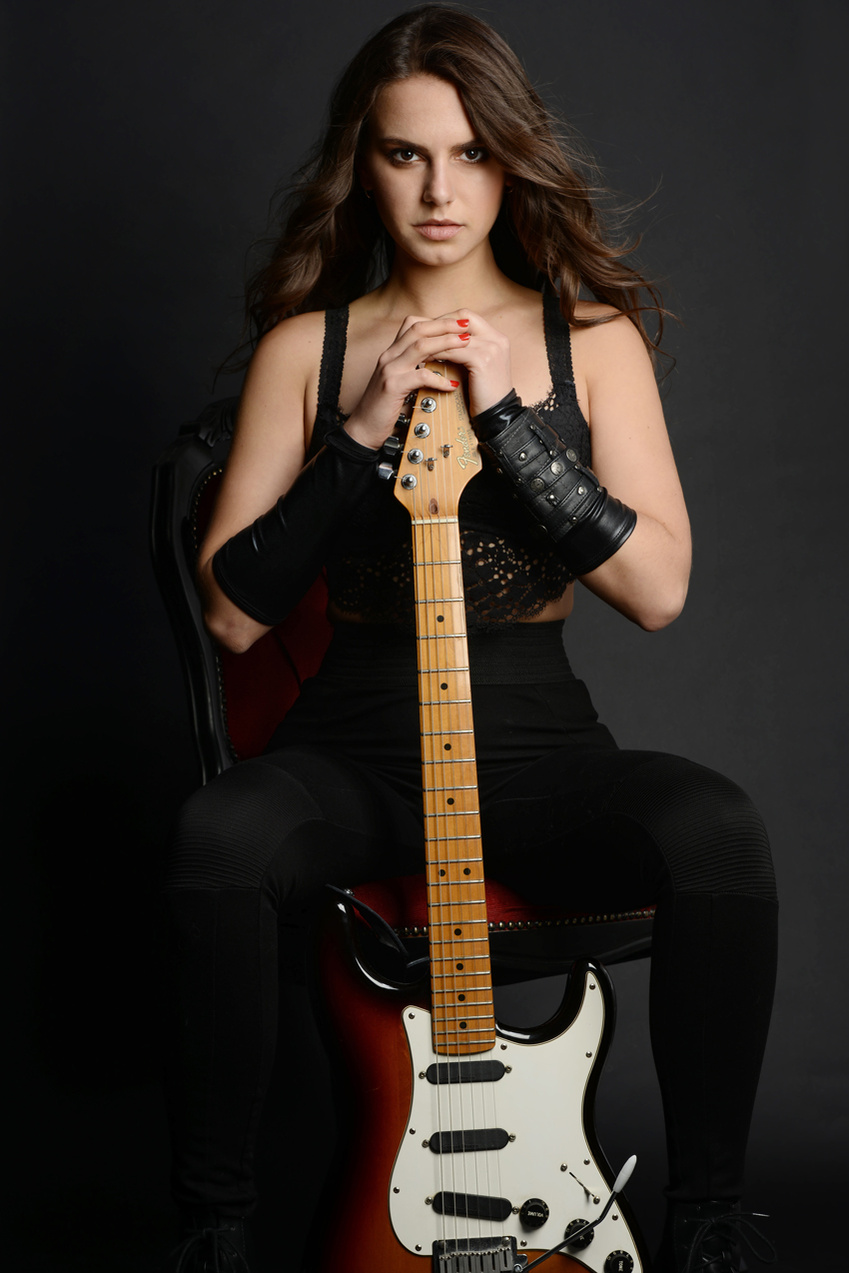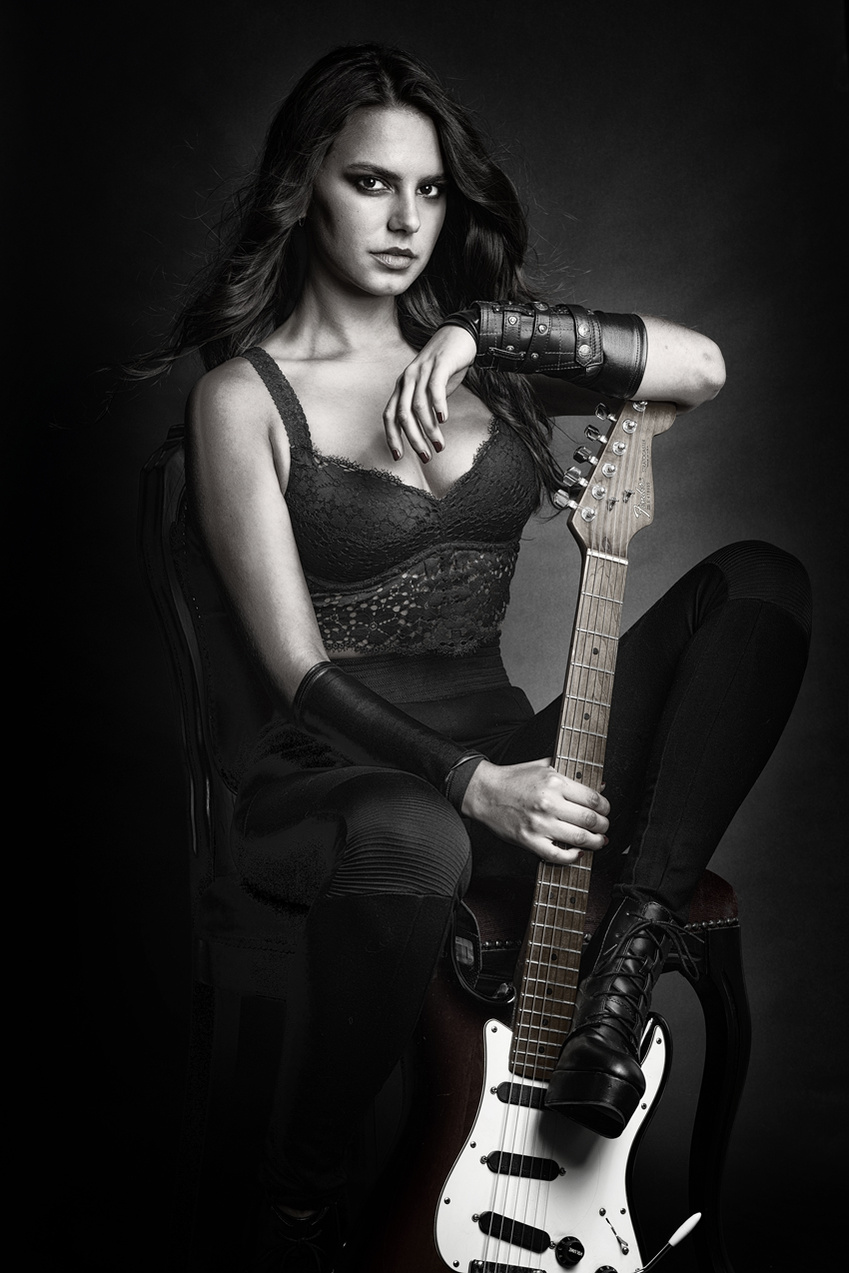 Tell us a bit about your new record.

It's my first official EP release, consisting of 5 original songs that I've written over the last few years. I'd say it's alternative rock that really focuses on anthemic melodies, soaring guitar riffs and war drums worthy of Game Of Thrones.
How did it feel recording at famous Abbey Road Studios?

The first time I walked into the building I must say I was overwhelmed! Just looking at all the portraits of rockstars and composers that have recorded there before me was just incredible. It really made me feel like I was part of the legendary history of Abbey Road and creating my own unique music legacy.

For those who have not heard your music yet, explain your sound in 5 words.

Anthemic, melodic, universal, uplifting, empowering
When did you first start singing?

I started singing quite early on, but I remember deciding at around 14 that I wanted to pursue singing as a career. I began my vocal training in classical and operatic singing, achieving a Grade 8 Trinity Guildhall certificate with distinction at 17. I then took it further with musical theatre until I discover Ken Tamplin and his vocal academy on youtube. I spent three month with him in Los Angeles training under his guidance and finding my true rock voice.

Do you enjoy writing lyrics?

Just as much as I love creating melodies too! It just depends on what I'm inspired by and what comes first, but with lyrics you can really tell a story or convey a specific message, while with melodies or the music it's more the feeling it gives you individually.
Where do you draw inspiration from when you write songs?

Life experiences mostly! Sometimes out of my own experience or what I see from the lives of others. Sometimes it starts with an idea or a concept and I work my way from there. Other times it's as simple as coming up with a melody or a piece of lyric.
Where would you most like to perform?

I have an obsession with old and historic venues, like beautiful churches, theatres or opera houses. Would be amazing to perform rock music in one of those venues but I would just as much love to perform at Wembley arena or Glastonbury festival!
What is your favourite song to belt out in the car / in the shower?

I love my classic rock and 80s hits, but I'm a big musical theatre fan so you'll probably hear me belting out some Phantom Of The Opera in the shower or a classic Disney song.
What is your fashion style?

Black on black with a superhero twist.
Do you ever get nervous?

Most definitely! But it's more of a buzz and excitement to perform rather than being afraid to be on stage.
If you could open up for any artist on tour who would you choose?

That is a difficult to answer, there are so many! But out of the ones I've seen and love my dream would be to open up for U2, Muse, 30 Seconds To Mars, Bon Jovi, Coldplay or any other amazing bands.
What's your motto or philosophy in life?

"Music can change the world because it can change people" Bono
What are the tree things you can't live without?

Vegan food, Hans Zimmer soundtracks and my daily workout.
Who is your celebrity crush?

Jared Leto or Tom Hiddleston
What else can we expect from you in the future?

A lot of great music and world tours!
Follow Xio @xiomaracrystal
Check out more celebrity portraiture / portrait photography by Photographer Zuzana Breznanikova
Follow @breznanikova.photography