Kamil Lemie - The Renaissance Man
KAMIL ATILLA LEMIE is a prolific actor, model, director and filmmaker having worked on over 60 films and 150 adverts, including King Arthur as Merlin, Transformers 5, Rogue One: A Star Wars Story, Jason Bourne and Heineken's the Chase alongside Daniel Craig. He has been named 'a renaissance man' by the media because of his particular look, but it could also be because he is knowledgeable and proficient in a variety of fields. His 'renaissance' look is what made me want to photograph him. Kamil is such an interesting subject to photograph and a great story-teller. Rising above any adversity that life has thrown at him, his drive, work ethic, positivity and creativity are inspiring.
Kamil Lemie Interview and Portrait Photography by Zuzana Breznanikova
Can you tell us about your acting training?
It's a long story… I tried all kind of methods. And I'm very happy because it's all about practice, practice and practice. I spent a long part of my life in street performance and Circus theatre, also I had Puppets workshops and was making shows with them. But the most I love traditional theatre and film.
My acting training started very early … I can say even in Primary school or kindergarten. I always wanted to perform, so I was first in line to be in shows.
Even when I was 5, I loved the stage in Churches or Orthodox Churches and Synagogues where I prayed as a child … so I decided to join to the Priesthood and became one of the actors… and later a Jesuit monk … hopefully the path of my acting carrier goes differently :D
Then I had opportunities in Secondary school to join Acting Workshops from Gardzienice where I get know the Grotowski's method of acting … but from the moment when I joined Prof. Wasiewicz's Theatre 36zl - I knew that being the actor is my path in life. I left performances in Churches and visiting Synagogues for a long time … praying and performing on the desks of my temple of art – street ( as the juggle, fire dancer, stilt walker, mime, clown, ringmaster ), stages.
I joined many theatrical groups and hundreds of workshops, even Film School in Lodz … but in that time I already was prepared for acting so I produced with professors and students our own shows or acted in short films of students from the Film Academy.
Then I found out that I can use my acting skills on catwalks - so I performed also as a dancer and acting model on fashion shows … or adverts.
But in meantime I also was studying in Stunt Academy to be ready as an actor to do my own stunt parts.
How many movies / films you have been in this date?
Ohhh… It's a long list. Till today I was working on over 60 featured films (not always as actor - sometimes as Executive producer, 1st AD, Casting Director - back in Poland I had my own acting agency as well …) and over 150 adverts and over 20 music videos also in productions of very famous singers.
You have worked with many big actors - tell us about which ones were some of your favourites.
Yes, I have had the opportunity to work with many big actors and directors, but not yet with my favourites.
During work on the set I spoke with some a lot and I can say they are very positive and nice, like: Dylan O'Brian or Scott Adkins from American Assassin. Or Jude Law when I played the Merlin in King Arthur of Guy Ritchie. Also I liked a lot Emilia Clark - gosh almost forget about her - but she is so funny dude! and beautiful. The Han Solo was I think one of my most Favourite Film sets or Rogue One (I'm a Big fan of Star Wars ). Woody Harelson is a very open person and easy to talk with, but the funniest time I had with was with Emilia Clark and Joonas Suotamo ( who played Chewbacca ) - I was calling him all the time in Finnish YOWLOOPUKHIN ( Santa Claus ). Don't Ask me why, it just happen and stayed …
I always wanted to work with Sir Sean Connery one of the greatest James Bond actors, but no Luck. In another Bond way I worked with Daniel Craig in an advert for Heineken and as part of Spectre promotion and with Pierce Brosnan (in Final Score ).
Which has been the most memorable movie you have been in and why?

Each film is a different story , memories and feelings. When you act or work as part of a crew that is a totally different thing. Sometimes you are a Big PAPA (father) when you take care of crew and casts and when you are acting you are in a different dimension. Inside your head there's a Director's creation hanging in between and being ready to transform and to not loose your own personality … After each character part of them is nested inside your head and heart with feelings, emotions, etc.
My first film ever was called "Poland nights" a crazy low budget thriller that we were performing in -30 degrees, where my character landed just in underwear on the middle of a lake crouching, after a herd of ducks flew over and sleeping on a tree… it was so crazy.
In some other scenes we detonated buses and other cars then rescued the people. In a TV series "First love" I had to dance as a Chippendale in front of many people, coming from a medieval shoot in another film, driving across the whole of Poland 450km in a few hours to be on time on another set!
In Transformers 5 I had to fight with a sword with other knights and protect the Wizard Merlin, but before to play Merlin and to forge the Excalibur – it was good I had before some blacksmiths workshops - to know how to do that - till now this craft is one of my favourite hobbies.
In Jurassic World 2 I have seen dinosaurs and could buy them, also I helped the actor with Russian phrases… as a dilect coach.
In Star Wars - Rogue One I could wear the costume of BOBA FET (one of my favourites) & play 4 other characters - or chat with Chewbacca & be inside the FALCON (making childhood dream come true!) in Han Solo's STORY.
In one of my films "3rd Day" during the production my fiancé left me, so I had to be strong and continue my work, but during production of "WILD IS THE NORTH" - I almost sank in a freezing lake and during a stunt almost lost my fingers being hit by sword of another stuntman.
Playing a medieval Warrior in minus temperatures in mountains I got pneumonia and almost lost my teeth and cut my lips bleeding for the whole shoot – which gave me an authentic look. In another shoot I was falling 300 meters from Kasprowy peak in the Polish Highlands - still alive.
But I also had to be professional and still act when I knew that my father was dying in hospital and drive to him after work to see him the last time alive…
But I love this job and versatility. You have to be strong and be ready to be the character in any situation even after waiting 20h on your part.
I said about many difficult situations, but many times you have to come on set at 4 am and work till 9 pm. Once I even had a 34 hour long day. I also performed during the day in the TV Series for BBC "Eastenders" for 6 days long, while after I ran to another film set on Night Shoots in "Lost in London" working in a freezing building without heating in minus 1 degree. You have to be strong!
I have many memories & beautiful moments from my work and even very dangerous ones, like I was a human torch on stunt shows, a fire eater, etc, or giving a french kiss to an actress on the birthday of my fiancé.
Of all the roles you have played in the past, which is your favourite?
The role or time spent on the set ? There are a few. But before I concentrated to work in film I was a Clown & Juggler on the street and part of a tent circus around the world ( Dubai - Saltimbanco, Finland - Power Park, Mongolia, Cannes, Dublin, Moscow, Poland - Performed almost in each City or Town).
It was very funny to play Jesus for new Holly Pictures for the Church!
As I mentioned before there are many moments that I have loved, but the role of the Witcher who is the warrior and sorccer was interesting. Also I'm working on new project "The NAMELESS" it's about a Monk who became the Warrior and he is travelling the World of Slavic Mythology between Dragons, Zombies, Vampires, Werewolves and knights or Druids, or being young Indiana Jones who is fighting with huge a 20m Anaconda snake – which was an aircon pipe during the shoot!
Also I have very good memories from being the henchman who was fighting with James Bond – chases on speed boats, medieval cities etc, and being Michael's Jackson Manager as John Landis.
In Steven Spielberg's film "Ready Player One" I was a Stunt man and had to run over high levels of the town up and down!
You played Merlin in King Arthur. Can you tell us more about playing this famous character?

It was kind of a break through but also a gift from the universe from when I had to work hard before. It was at the time when I wanted to go to Sweden on a Stunt Workshops to refresh some bits and bobs, but I had the feeling that I should stay at home. And just before I left my flat with my suitcase I decided to stay. When I woke up I checked the phone with a question from my agent asking if I could pop in, in next 60 mins to the studio for an audition for another Wizzard in a film. With a big rush I got there on time to the studios and played the character speaking in some Arabic and Hebrew, but it wasn't that what the casting director wanted.
Just a few days before I had edited some new showreel where I added new parts from my own productions, also from a short film The Witcher, what made my proposition much more interesting to the Director and to win the role. But for the answer from them I was waiting around 7 months, which was at the same time as the end of my relationship and cancer therapy, but you have to be strong and never give up! I get the confirmation of the role on my birthday in 2016.
This message gave me a lot of new energy to live and to play the character. I got only a few days on the film set, but it was another big dream come true. The costume was very heavy and it was very hot to wear, also forging a 10kg piece of cold steel with a 7 kg hammer was quite tough, I sweated a lot and dropped almost 5-8kg, being at the end of day much lighter. But it helped me to hammer out the anger of the brake up of my relationship and therapy.
It was my third big Hollywood production I was working in, but IT was something spectacular to work for the first time in Warner Brothers Studios.
Tell us about some of the biggest physical transformations you had to do as an actor for a role.
Most of my life I'm very sporty and always I do physical work, when I was in the Circus walking on heavy stilts for 10 hours with almost no brakes between shows (here in England the work style is very easy!). But nowadays I have to transform for June my body to look like a young GOD for the role of HEROD in the Film about "JESUS & OTHERS" – I'm working very hard and training almost every day with World Champions in Muay Thai from PERUN MUAY THAI TEAM in LONDON – amazing guys and great Warriors – 4 hour sessions of boxing and gym.
When I have time I'm running in London's parks half marathons min. twice a week, also doing daily around 500 pushups. From time to time I have sword fighting sessions with the best swords man who I know - Jacek Grzymala called VIKING. Also I had a session with a World Champion in Bow & Arrow on horseback, by Anna Sokolska from Podlasie in Poland. So it's not easy, but I'm doing it. Workouts and going back to castings or to work.
What's the best thing about being an actor?

The feeling of freedom, that you can switch off from this reality and jump to a totally different dimension. To still be a child or to became very old. To do the things that everyone would love to do, but society does not accept.
You can be the King, Man, Woman, Child, Fairy, Peter Pan, Ogre or Viking.
But in the end agents are holding money for a long time and paying you at the end after 3 / 6/ 12 months, so even you can die from hunger and being kicked out from your tent or room, being an actor is a very difficult life and work (mentally, physically, financially).
You are getting lines to learn a few hours before and no one cares that you need more time to learn or digest them. Like today, I went for a casting where I get some lines a few seconds before the entrance, so power and skill of improvisation is very needed here.
Creativity is also a very nice thing as part of it – that you can improvise and offer to a Director your idea for the character.
Which was the toughest film to shoot ever? Or What was the hardest role you have ever played?
All of this is depending on the time and situation in your life…
I remember that I had to play Captain Morgan – a funny and strong mentally pirate on the day when my father died. The day before I had a shoot for a commercial when I knew he was dying and in the morning got a message that I had to go for a final recall and another message from the hospital to sign documents that my father was dead. Just imagine to try and be funny and full of happiness knowing on that the other side of your life is Armageddon, and all this while I had to drive to another city to play and win the job and after go back and do what you have to do…
On another occasion I had to dance at the premiere of one of my musicals when few days before I broke the discs in back and I should have been full in plaster, but I get on stage covered in bandages and did my part – then I had to have 3 months off to repair my body and stay in a wheelchair.
In the last few months I had to play very difficult characters - one was a Highlander for a whisky brand where I, as the character, was a few hours naked on a horse during the shoot when people were shaking from the cold in winter coats! The day after I had to perform only in a Kilt in bare feet, commando in the ocean when it was raining and snowing sometimes – waves were 6-7 meters and I had to hold a log of a tree as my surfing board – and all that was 7 hours outdoors!
I think each film set is different and hard in their own way though.
On the set of Star Wars there were long days shooting and sleeping only 3 hours and going back to the set.
On the Henchman in Heineken, twice on one set we almost died,once when the wave from a chased boat pushed us on to another speedboat and we had to decide to make a crazy manouver to jump through the wave and over the boat by boat, when after that situation we heard only "CUT! Go back on first position!" … I was very lucky that David Garrick, the best Stuntman in Hollywood was my coordinator and assistant. Or, when I was chasing James Bond down the stairs in a medieval city all the stairs where wet, we were wearing smart shoes and on the run tens of baskets with wires inside were rolling down between our legs what caused me to almost break my leg or neck, jumping over many stairs and down with my foot trapped in a basket and skin cut by wire what was inside… then "cut! Go back on first!"
In Mission Impossible 7 my role was very simple, just to make a coffee for Tom Cruise and others, but at that time none of the agents paid me for 3-5 months and they were holding the money, so even to get on set I had to travel at 3:30 am by bus, then a train, then walking 4 km, without money and food, and the same to get back home, repeating that 5 times in week … it was my mission impossible, but I managed. Sacrifice will make you stronger!
On another occasion I had to learn to drive a motorbike in 2 days to play the motorider for a Greek advert – driving only in a shirt in minus 5 degrees for 5 hours at the old airport at 100km/h and after completely shaking from cold, during which time I also had to learn quickly Greek phrases and deliver them with smile.
Tell me about what you're working on now.
Nowadays I'm working on a few projects. I get a role of HEROD in "Jesus and Others" which I'm preparing for physically and mentally and have a few months more to go.
Also I'm producing my own two films and one more – so three films together. One is almost done – "Wild is the North" which I wrote and produced with Bobby Robertson, directed by Hayley McInline and shoot by Barry Gunning and Stuart Gilmartin. Also the story about First Union between England and Scotland in 1035 AD when on the English throne was the Polish blood King of England.
The second I have already mentioned before is "The Nameless" producing it with Dawid Grzesik and camera man Michal Palikot.
I'm very happy that I can work with very talented filmmakers and talents. Also that I can work with such talented photographers like you.
These days with one of my friends we are working on the script for an action comedy that we will shoot here in UK.
And the last projects are the advert where I'm playing the Scottish Rough Highlander – the alpha Man – where people will be able to also use gifs with me on social medias … and soon people will be able to see me on screen as a Polish/ Slovakian Highlander in Very Beautiful and with the talented Polish singer Cleo, Directed by Michal Konrad.
In a few days time I'm acting in an advert for beauty products and the week later in another big production – I can't mention the products yet … but you will see them for sure on TV, billboards and on my Instagram – KAMILLEMIE_OFFICIAL.
I have many more stories with crazy details but they can be told at another meeting … or maybe in my book.
Many are of love stories, my dead after show and defibrillation crazy parties … or many others. I love this life and love to inspire others also to be inspired.
Update: Kamil Lemie has been shortlisted as a one of the frontrunners to replace Daniel Craig as James Bond! Looks like his talent, hard work and perseverance is finally paying off.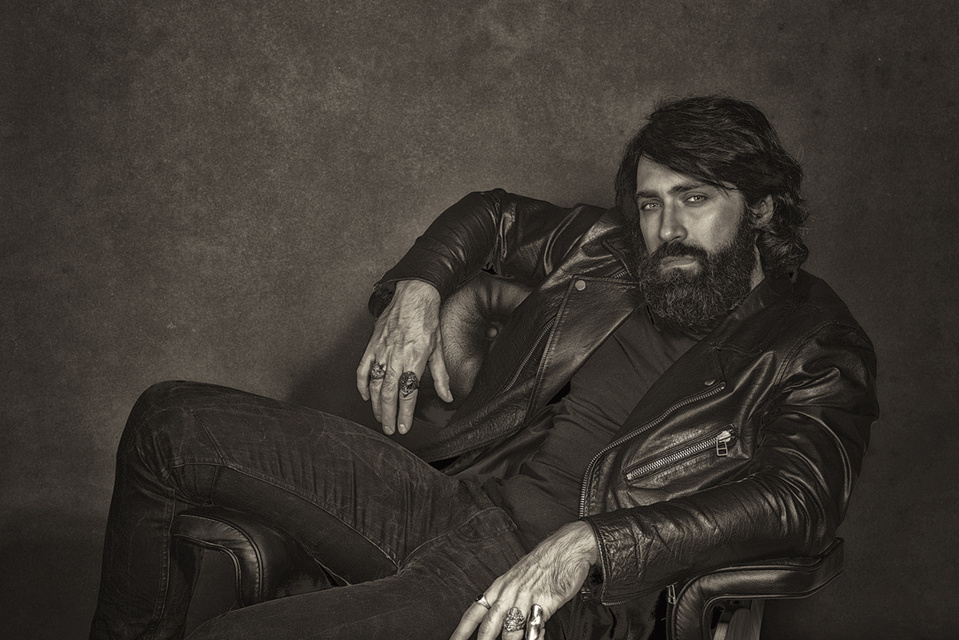 About the Interviewer
Zuzana Breznanikova is a photographer best known for her distinctive aesthetics and dark, moody style with rich tones in her portrait photography. This signature atmosphere makes her work captivating and earned her quite a bit of following on Instagram